Tourism

You can enjoy Xiamen's unique scenery not only in the day but also in the night. Take a breather and walk beside Yundang Lake in the evening and you can see how Xiamen transforms into a different setting: lighted artistic sculptures, scent of the sea, and romantic lovers by the lake. Enjoy your stroll and notice that some buildings even have a light show at night, simple laser/light shows that attract attention, which is some form of an advertisement mostly done by newly opened commercial buildings and some residential complexes to draw attention to their business.

1. Gulangyu(鼓浪屿) A visit to Xiamen would not be complete without setting foot on Gulangyu, the island just across the harbour. A walk around, especially on tourist infested days is exciting. All sorts of food vendors, handicraft hawkers, and cute little cafes and restaurants beckon. To sum up, Gulangyu may just represent what a Chinese version of a Bohemian-like enclave can be. Lots and lots of colourful portrait artists in every nook and corner. A day's trip is just fine. Unless you are really into a spell of peace and quiet, the island may be a little boring once the sun sets except maybe you are into seafood dining and the upmarket cafes and restaurant for drinks. Not cheap though. Gulangyu business people cater for tourists and tourists only. All in all, don't miss visiting this relaxing, quiet and yes "European themed" old buildings island. The Chinese tourists flock all over just for this trip down nostalgia lane.
2. Zhongshan Road Pedestrian Street (中山路步行街), off Liujiang Road near the Gulangyu ferry terminal. See the yearly facelifts and notice that older buildings are becoming extinct and being replaced by modern ones.
3. Yundang Lake (筼筜湖), (from Hubin bus station, turn left, then turn left on Bailuzhou Road). See how the egrets flock in the day and fly home in the night.
4. Bailuzhou Park (白鹭洲公园). A large and beautiful park. Go around 8:30PM and enjoy the vendors, music, and dancing.
5. Xiamen University (厦门大学). Beautiful campus with old traditional buildings and a tranquil lake outside the foreign language department. Nowadays the University is open for anyone, some registration may needed on peak holidays. To avoid long registration procedure, you may enter the university from three smaller gates which are across the Baicheng beach.
6. Jiageng Park (嘉庚公园). A beautiful park in memory of Tan Kah Kee (Chen Jiageng), founder of Xiamen University.
7. Nanputuo Temple (南普陀寺). A big Buddhist temple outside Xiamen University at Xiada (short for Xiamen University) Street. Visitors can climb the mountain behind the temple for beautiful views of Xiamen and surrounding nature. The mountain is also littered with small enclaves with hundreds of Buddhist statuettes. You can also walk around the lotus pond and eat in the vegetarian restaurant on the east end.
8. Hulishan Fortress (胡里山炮台, Hulishan Canon Platform), (on the south-eastern headland of Xiamen and near Xiamen University). Built in 1894 it is a relic of the Westernization Movement. The architectural of the canon platform is in a Ming and Qing dynasty style. On the front of the platform there are "Wanggui platform" and "Pangui platform", on which you can see the Dadan and Xiaodan islands through a telescope. In the yard of canon platform there is a gorgeous wall sculpture named "the Soul of Nation", and a water fountain from the left side of the wall.
9. Sunlight Rock (日光岩). Chinese say the 92.7m high Sunlight Rock, known as Dragon Head Hill by Chinese and Camel Rock by foreigners, faces Tiger Head Hill across the bay on Xiamen Island, and that the dragon and tiger team up to guard Xiamen Harbor's entrance.
Xiamen Local Foods: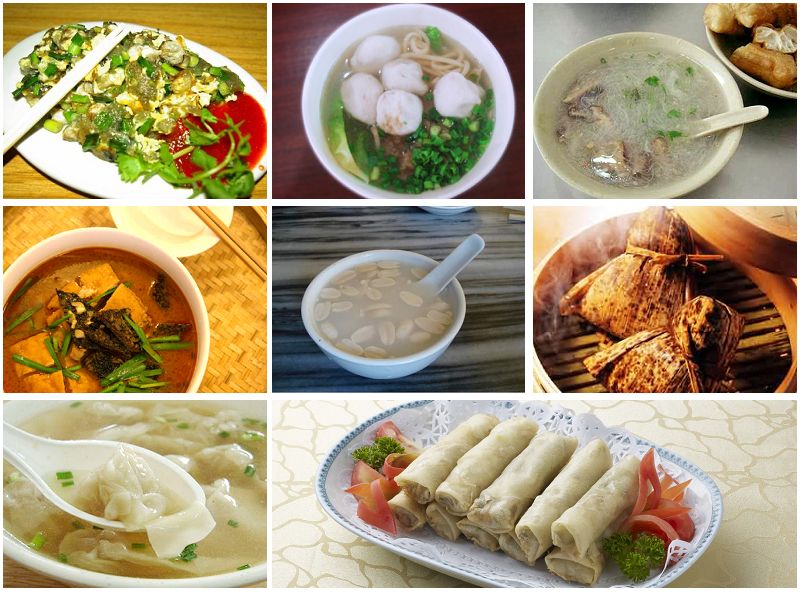 Xiamen Glass Noodles 面线糊 miànxiàn hú
Oyster omelet 海蛎煎 hǎilì jiān
Xiamen Fish Balls 厦门鱼丸 xiàmén yúwán
Sea worm Jelly's 土笋冻 tǔsǔndòng
Shacha Noodles 沙茶面 shāchá miàn
Shrimp Noodle Soup 虾面 xiāmiàn
Xiamen Spring Roll 春卷 chūnjuǎn
Xiamen Glutinous Rice Wrap 厦门烧肉粽 xiàmén shāoròu zòng
Peanut soup 花生汤 huāshēng tāng
Xiamen Pot Stickers 韭菜盒 jiǔcài hé
Braised Duck with Ginger 姜母鸭 jiāngmǔyā
Xiamen Wonton soup 扁食汤 biǎnshítāng